The best app for ready mix producers and their customers.
Offer an unparalleled experience for your customers by providing users with real-time information to better manage their jobs, communicate with dispatch and most importantly answer the number one question in the industry, "Where's my concrete?" Reduce calls into your dispatch center and make your customers happy with WHERE'S MY CONCRETE?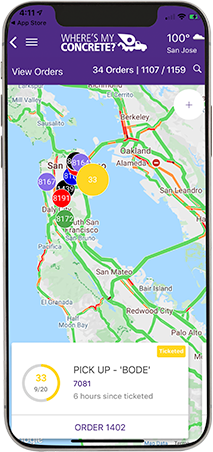 REAL-TIME DATA
View live truck map with delivery status such as ticketed, loading, to job, at job, pouring etc.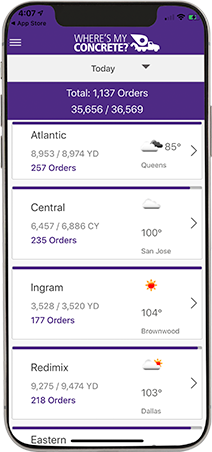 UNLIMITED ACCESS TO DATA
View past, current and future orders all from the convenience of your smartphone or PC.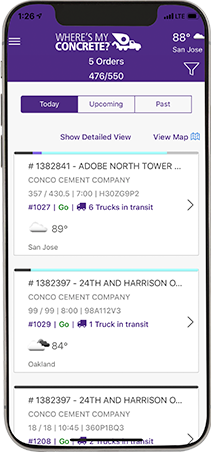 INCREASE TRANSPARENCY
Customers and producers share information to effectively manage orders and deliver an exceptional level of customer service.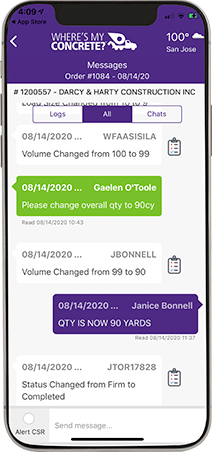 INCREASE PRODUCTIVITY
Reduce long hold times by direct chatting with dispatch.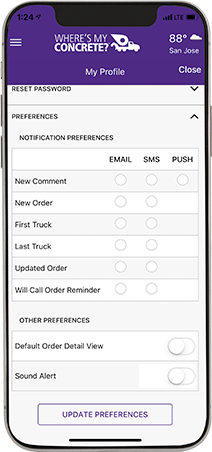 BE INFORMED
Get real-time alerts on the status of your job and deliveries.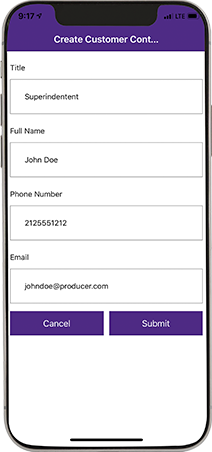 STRENGTH IN NUMBERS
The more employees, customers and sub-contractors that have the app, the better.

"The metrics are invaluable. By using this information from the owners on down to the job site level, it gives you an advantage to improve your metrics."

"The WHERE'S MY CONCRETE? app gives me precise data to the minute for all my jobs. I am able to view job performance from the app and confirm that we are exceeding the customers' expectations."
DOWNLOAD THE APP
Now available on Google Play, the App Store and desktop devices.